The Sony Airpeak drone was officially announced at CES 2021, with Sony offering an exciting first glimpse at its new flying machine through a series of product shots and an impressive promotional video. 
And what an entrance it was, with Airpeak filmed soaring above a snowy landscape and carrying a Sony A7S III, as it kept pace with a prototype Sony Vision S car at a race track.
The short demo video emphatically answered our main question about Sony Airpeak  – what kind of drone will it be? With its mildly terrifying wingspan, nifty retractable landing gear and high-end Sony Alpha payload, there's no doubt that this will (for now) be a drone for professional cinematographers.
New information points to the same conclusion, which is a slight shame for those of us who were hoping Sony might tackle DJI head-on in an aerial photography dogfight, with an equivalent of the DJI Mavic Air 2. 
But Sony has left the door open for future iterations on its Airpeak brand – could we still see a consumer drone fly from its Alpha bunker? And what else did the CES 2021 demo, plus an even newer video, teach us about the first Sony Airpeak drone?
Here's everything we know so far about the exciting airborne Alpha…
Latest news
A new promotional video suggests the Airpeak could boast a frame enabling it to withstand wind speeds of over 19m/s – which could prove a key advantage over its closest competitor, the DJI Inspire 2.
Sony Airpeak drone release date and price
At CES 2021, Sony confirmed the Airpeak launch date that it mentioned in its first official announcement back in November 2020.
In a short statement, it said "Sony will launch a new business targeted for professional photography and video production in the spring of 2021". For worldwide readers, that means we should expect an arrival (or at least more information) sometime in May 2021.
Interestingly, Sony refers to Airpeak as a "project" and "new business", rather than a standalone product. So it's certainly possible that the drone shown in the CES 2021 demo will be the first of a new range if Airpeak drones.
In previous years, Sony has given 'project' status to new platforms that slowly develop into fully-fledged products. For example, Sony's Project Morpheus announcement in 2014 was an early prototype system for what ultimately became PlayStation VR two years later.
Sony Airpeak is a different division, of course, and appears to be pretty fully-realized already. But it's likely to be the start of a a big new sub-brand that could ultimately be home to several drones. 
Sony Airpeak is clearly a very high-end drone that will likely go head-to-head with the likes of the DJI Inspire 2.
So far, Sony hasn't given revealed anything about possible Airpeak pricing and, with so few concrete details, it's tricky to estimate a ballpark figure.
The DJI Inspire 2 is available in various bundles, depending on which of its Zenmuse camera modules you go for. And It's not yet clear whether or not Sony will sell the Airpeak drone bundled with an Alpha camera like the Sony A7S III or A9 II.
But even without a camera, the DJI Inspire 2 starts at $3,299 / £3,059 / AU$4,699. That's a very general idea of how much this level of professional drone costs, but we'll update this page when we hear more about official Airpeak pricing. 
Sony Airpeak drone news, rumors and features
Following its reveal at CES 2021, Sony had been keeping an impressively tight grip on rumors surrounding the Airpeak drone. Beyond some information from the official Airpeak page and a promotional video shared at January's event, we weren't able to discern much beyond what the company had officially disclosed.
On November 9 2020, Sony said that it had "launched a new project for drones in the field of AI robotics" and that Airpeak will "support the creativity of video creators to the fullest extent possible, aiming to contribute to the further development of the entertainment industry, as well as to improved efficiency and savings in various industries".
Sony then followed this up at CES 2021 with this slightly more precise announcement: "As the first phase of this project, Sony will launch a new business targeted for professional photography and video production in the spring of 2021." This would include a drone whose payload could include "an Alpha mirrorless camera to capture high quality, full frame aerial photography and video." The aforementioned promotional video (below) shows this in action.
Despite its size, Sony says that Airpeak is "the industry's smallest class of drone that can be equipped with the Alpha system" and that it "aims to contribute to the world of entertainment while also pursuing new possibilities for creative expression".
For a time, that was the only real information we had surrounding Sony's upcoming drone project, but a recently released second promotional video seemed to reveal what could be a key strength in its battle with DJI drones.
This newer video (below) shows the Airpeak being tested in a wind tunnel and able to withstand wind speeds of over 19m/s. Camera footage remained remarkably steady, although it's worth adding that the wind appeared to be coming from one direction at a fairly consistent speed, rather than some more realistic gusts.
Still, this is an impressive feat nonetheless, with the Inspire 2 – expected to be the Airpeak's closest competitor – only able to withstand maximum wind speeds of around 10m/s. That's half what Sony is hinting at for the Airpeak in its wind tunnel tests.
Sony says that these tests on a prototype at the Japan Aerospace Exploration Agency show that it's "aiming for a high-level of wind resistance as we continue developing Airpeak's frame".
It seems, then, that Sony has spotted a gap in the pro filmmaking space for its upcoming drone, with the Airpeak expected to hit the spot for big film productions looking for spectacular, full-frame aerial shots. 
As per early images, we also expect the Airpeak to arrive with what look like pairs of obstacle avoidance sensors on the front and rear, plus another camera above that.
When announcing the drone, Sony suggested it would occupy "the field of AI robotics". It's not clear yet how all these additional cameras and sensors will help the pilot fly or shoot with the Airpeak drone, but we're looking forward to finding out.
Rivals like the DJI Inspire 2 can detect and fly around obstacles using infrared sensors, and use advanced visual tracking algorithms to lock onto subjects. Sony Alpha cameras are already masters of the latter, but it'll be interesting to see how this all integrates with the Airpeak system and where Sony might make new leaps.
Also, while the Airpeak gimbal has clearly been optimized for Sony cameras like the Sony A7S III (below), we're keen to hear exactly which cameras it'll support and if (as seems likely) this will be restricted to Alpha models only.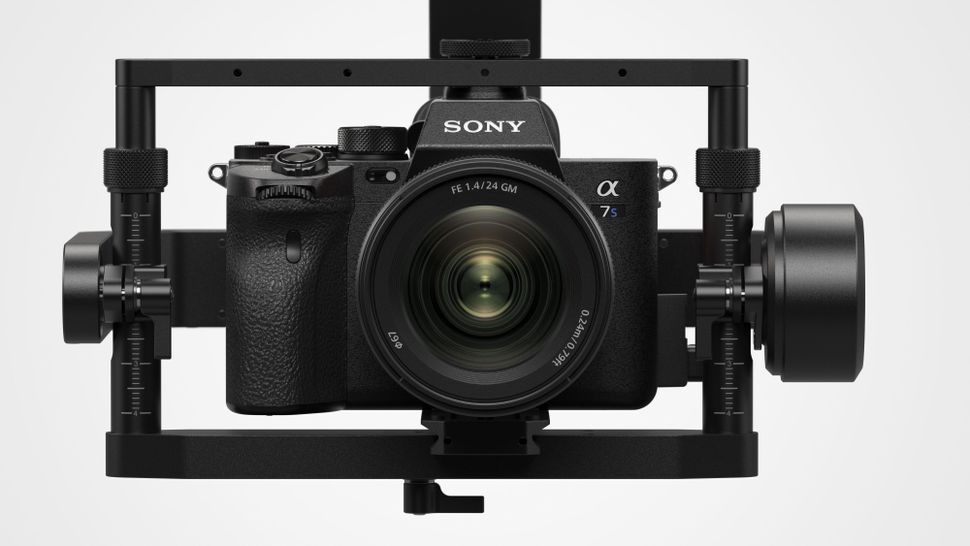 Will we see other Sony Airpeak drones?
The arrival of such a high-end professional drone would be appear to dash earlier hopes that we might see Airpeak rival some of DJI's popular consumer drones, like the DJI Mavic Air 2.
Sony has also called Airpeak a new business targeted at "professional photography and video production". But there was a small glimmer of hope for hobbyists when Sony said that this was just the "first phase of this project".
Could we eventually see a Sony drone that's the flying equivalent of a Sony RX100 VII, rather than a professional rig for filmmakers? We'd love to see it, but for the timebeing it looks unlikely.
That said, Sony has given us a glimpse what that concept could like with some patents over the past couple of years. Of course, patents don't necessarily lead to final products – in fact, more often than not, they remain wireframe concepts. But they at least show that Sony has been considering a more consumer-focused drone.
The first patent for a Sony drone was picked up by Sony Alpha Rumors back in 2018. This showed a folding design where the rotors all fold into a square holder, which is fronted by a touchscreen controller. The idea being that you can detach the touchscreen holder in order to fly the drone.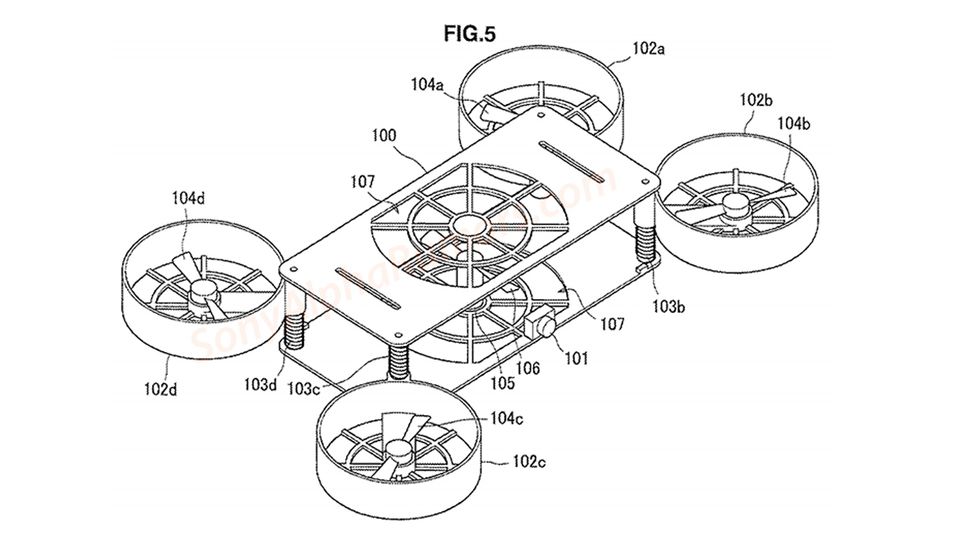 This concept was further developed in another patent in October 2019 which hinted at other features like gesture control – for example, one page contains an idea labelled "stretch out palm under flying device".
Interestingly, much of these patents refer to a device that has more in common with entry-level drones like the AirSelfie 2, which arrived back at CES 2018, rather than a aerial powerhouse like the new Sony Airpeak drone.
But one thing is clear from both the patents and official Airpeak announcement – Sony's idea of a drone is an AI-powered flying camera that does a lot of the heavy lifting, in both flying and image-taking terms, for you. Whether Sony applies this philosophy to a DJI-rivaling consumer drone, though, remains to be seen.